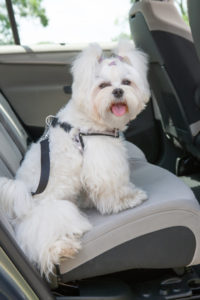 In the July issue of Consumer Reports, there was an interesting article about pet safety when traveling in a car.  What really stood out in the article was learning that pet products are a $60 BILLION industry that is UNREGULATED.  There are no government or industry standards for pet-safety items, so companies that use terms like "safe", "safety" and "crash-tested" are just using marketing terms.  Manufacturers are not required to meet performance criteria or even test their products.  WHAT??
One organization that is making a difference and tackling this problem head on is the nonprofit group called The Center for Pet Safety.  Their mission is "to have an enduring, positive impact on the survivability, health, safety and well-being of companion animals and the consumer through scientific research and product testing."  Their current project is independent testing of pet travel product performance.
Only a handful of pet travel products earned the center's crash-test certification.  Here's a quick list.  For more information you can go to their website the Center for Pet Safety and get the complete test results.
CARRIERS:
PetEgo Jet Set Forma Frame Carrier with an Isofix-Latch Connection
Sleepypod Mobile Pet Bed with PPRS Handilock
CRATES:
Gunner Kennels GI Intermediate with 8′ Tie-Down Straps
HARNESSES
Sleepypod Clickit Sport
Sleepypod Clickit Utility
Take a few minutes and check out The Center for Pet Safety.  I'm pretty certain you'll learn something new to help keep your pet safe.
Eli & Jojo's Bakery Bites are grain-free dog treats made with 100% organic ingredients sourced in the USA.  We never use artificial colors, flavors or preservatives, no wheat, corn, soy or gluten, no salt or sugar.  Just whole simple foods.  Wholesome Ingredients.  Healthy Benefits.
Comments?  Questions?  We'd love to hear from you