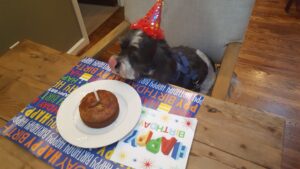 Does your fur baby have a birthday coming up?  It was Eli's 12th birthday, and we decided to give him a special little birthday party with his own cake and a matching cake for Jojo.
Eli is such a sweet boy and always wants to do the right thing.  So he just wasn't sure it was ok to eat off the plate.  Can you see his tongue?  He was definitely licking his lips!
Here's a recipe for a grain-free cake that both he and Jojo loved!  I think the peanut butter and apples had something to do with it.  Jojo didn't waste any time getting right in to his cake.  That's the best picture I could get because he would NOT look up at me.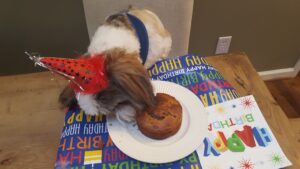 I decided not to put any frosting on the cakes, but you can certainly frost yours.  The icing recipe is included.  I have to say that my husband and I both thought the cake smelled great when it was baking!
GRAIN-FREE BIRTHDAY CAKE RECIPE
Yield: 2 Servings
INGREDIENTS
1 cup chickpea (garbanzo) flour
1/2 tsp. baking soda
1/4 cup peanut butter
1 1/2 Tbsp. honey
1 1/2 Tbsp. melted coconut oil (plus extra for greasing ramekins)
1 egg
1/4 cup water
1/2 cup shredded apples
FROSTING (If wanted.  I didn't use any frosting)
1/4 cup plain Greek Yogurt
1 1/2 Tbsp. peanut butter
DIRECTIONS
1.  Preheat oven to 350 degrees.  Heavily grease 2 8-oz. oven-safe ramekins with melted coconut oil.  Set aside.
2.  In a large bowl, whisk together flour and baking soda.
3.  In a medium bowl, stir together peanut butter, honey, coconut oil, egg and water.
4.  Pour the liquid mixture into the dry ingredients and stir until everything is incorporated.  Gently fold in the apples.
5.  Divide the batter evenly between the ramekins.  Place on a baking sheet and bake for 30-35 minutes.  Check with toothpick.  If just a few crumbs cling to toothpick, remove ramekins.
6.  Let cakes cool completely then run a sharp knife around the edges of the cake and invert.
7.  If using frosting, stir together the yogurt and peanut butter.  Slice the cake horizontally , frost the layers and the outside.
RECIPE NOTES
Adapted from tablefortwoblog.com
Eli & Jojo's Bakery Bites are grain-free dog treats made with 100% organic ingredients sourced in the USA.  We never use artificial colors, flavors or preservatives, no wheat, corn, soy or gluten, no salt or sugar.  Just whole simple foods.  Wholesome Ingredients.  Healthy Benefits.
Comments?  Questions?  We'd love to hear from you