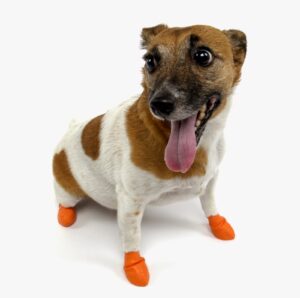 January is National Walk Your Dog Month, and if you live in a cold winter climate you may be wondering how to protect your dog's paws. The winter months can be rough on your dog's paws. When they're exposed to slush, sleet, snow and sidewalk chemicals, the result can be cracking, bleeding, and even frostbite.
How do you Choose the Right Boots?
The 3 key things to look for are warmth, comfort and durability.
Warmth
The boots should be made of waterproof or water-resistant material. You don't want the snow, sleet and ice seeping into the boots.
Comfort
Make sure they are adjustable. Velcro doesn't always perform well in wet, slushy weather, so some boots have a webbing cam buckle and elastic cord loop system to keep them on and avoid annoying slip-off. The boots should be snug around the ankle in order not to fall off, but loose enough around the toes to not be uncomfortable. The sole should be flexible, not stiff and rigid.
Durability
You want the boots to last for more than one season, so look for quality materials. The sole should be patterened for good grip and traction.
Trying on the Boots for the First Time
Let your dog try out the boots in your house, on a non-slip surface like carpet. It may be funny to watch their first reaction, but this can be dangerous if they slip and slide and end up with an injury. Let your dog wear the boots several times while in the house, and they will get used to them. At that point you know they're ready to head outdoors.
3 Links to Get You Started in Your Search
Here are several sources that review the top-rated paw protectors and boots to help get you started. If you are looking for protectors for your daily walks or something sturdier for hiking, jogging and longer time outdoors, these sites offer plenty of choices to consider.
1. https://www.toppetlovers.com/best-dog-boots/
2. https://breedingbusiness.com/best-dog-winter-boots/
3. https://www.thesprucepets.com/best-dog-boots-4589879
Have fun outdoors with your dog this winter!
Eli & Jojo's Bakery Bites are grain-free dog treats made with 100% organic ingredients sourced in the USA.  We never use artificial colors, flavors or preservatives, no wheat, corn, soy or gluten, no salt or sugar.  Just whole simple foods.  Wholesome Ingredients.  Healthy Benefits.
Comments?  Questions?  We'd love to hear from you