Love Your Pet Day
February 20th is Love Your Pet Day and a great time to give your pet a little extra loving for all that they give you each day.  Whether your pet is a dog, cat, guinea pig, bird or other, they all depend on us to provide them with what they need.
Since we have 2 dogs, Jojo and Jude, this post mostly pertains to dogs, but I'm pretty sure you can adapt several ideas to your pet.
So what do our pets want from us? Companionship, attention, love, fun exercise and games, well-checks with the vet, healthy food and clean water.  Not much when you think about how much pets do for us!
Three Things You Can Do For Your Pet Today
1.  Set aside some extra time just for you and your pet.  Play with them, pet them, take them for a walk, take them for a ride in the car if they love that.  You get the idea.  Spend time with them.
2.  Re-evaluate the food you are giving your pet.  Really study the label.  Are you giving them the best food you can afford?  If you're not sure how to read your dog's food label, start here: How to Read a Dog Food Label.  Feed them the best food you can afford.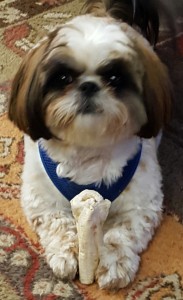 3.  Think about the treats you give your dog.  Do you give them rawhide chews?  Have you ever looked at the ingredients in a rawhide chew?  How about a healthier, safe rawhide alternative?  I'm loving a brand by Earth Animal called No Hide Chicken Chews.  Made in the USA with no chemicals, bleaches, formaldehydes or additives and just 7 simple ingredients.  Check out a safer dog chew.
Show your pet a little extra loving and you'll both feel great!
Every Dog Deserves Healthy Dog Treats
Take a look at our heatlhy treats
Stay in Touch with Us
Eli & Jojo's dog treats are premium treats made with wholesome, real food..  We never use artificial colors, flavors or preservatives, wheat, corn, soy or salt or sugar.  Real Food.  Simple Ingredients.
Comments?  Questions?  We'd love to hear from you.