Eli's Birthday Cake
Happy birthday to the sweetest dog in the whole world!  April 4th we celebrated Eli's birthday with a homemade dog cake that I made just for Eli and his little brother, Jojo.
So I thought I'd share a few pictures of Eli and Jojo enjoying the cake and also share the recipe for the grain-free organic birthday cake.
They were both waiting so patiently for the birthday cake.  Neither one of them minded the little birthday hats that I made for them, even though the hats kept falling down over their eyes.
The Birthday Cake Recipe
This is a grain-free peanut butter cake made with all organic ingredients.  I made one recipe and split it between 2 small ramekins.
INGREDIENTS FOR CAKE
1 organic egg
3 Tbsp. organic peanut butter (no salt or oil)
1/2 small organic apple, chopped fine
2 Tbsp. organic unsweetened applesauce (no sugar)
1/2 tsp. baking powder (yes, they can have this very small amount of baking powder)
OPTIONAL FROSTING
2 oz. softened organic cream cheese
organic honey – add enough to get the consistency that you want
Preheat oven to 350 degrees.  Grease well 2 small ramekins.  Mix all the ingredients together and divide  between the 2 ramekins.  Bake for 15-20 minutes, until a toothpick comes out clean.  Let cool and remove from ramekins.
I chose not to frost the cakes, but if you want a frosting, mix the softened cream cheese and honey together.  Spread on top of cake.
Here are pictures of the ramekins before and after baking.  They were difficult to remove from the ramekins, so grease them well!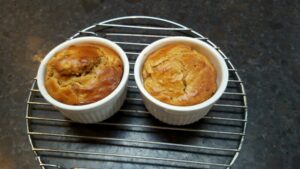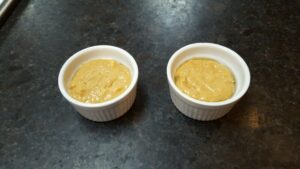 I stuck a candle in the middle of Eli's cake, but I didn't get a picture of that.  They were waiting for me to put the cakes on the table and when I did, it was game on.  No time for me to get a picture of the cake and candle.  Oh well.
Here's a picture of Eli eating his cake.  They absolutely went nuts for these cakes, so this recipe is a winner!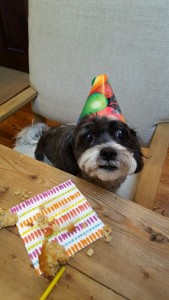 After the little party and a trip to the park, they both took a long nap.  I think Eli would say it was a PERFECT BIRTHDAY!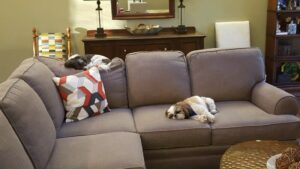 Happy birthday, Eli!  You make us smile every day and we love you.
Stay in Touch with Us
Eli & Jojo's dog treats are premium treats made with wholesome, real food..  We never use artificial colors, flavors or preservatives, wheat, corn, soy or salt or sugar.  Real Food.  Simple Ingredients.
Comments?  Questions?  We'd love to hear from you.