Milkbone Dog Treats?
Amazon's #1 best seller in dog biscuits is Milkbone Flavor Snacks Dog Biscuits, 7 lbs. for $8.99.  These are the biscuits that come in 5 different flavors: bacon, beef, chicken, sausage and turkey.  Sounds like a good deal?
Let's look at what you are getting for dog treats that only cost $1.28 a pound.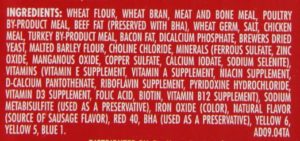 Here's the actual ingredient list from the box of treats.  Holy Cow!  That's 38 different ingredients!
This would be a very long post if we looked at all 38 ingredients!
I've selected 16 that are extremely concerning and worth identifying.  They are listed in the order that they appear on the label.
16 Concerning Ingredients
If you want to look at the other 22 ingredients, here is an alphabetical list of pet food ingredients from Natural News.com.  There are plenty of other sources online as well.
Wheat flour – Poorly digested filler, can cause allergies and bowel problems.  This is the #1 ingredient in the biscuits!
Wheat bran – Indicates a poor quality food because it's best to have whole wheat.  It can cause allergies.
Meat and bone meal – Because it is non-descriptive and we don't know what type of meat, it indicates 4-D meat, the cheapest source and can include diseased tissues.  4-D meat means dead, dying, disabled and diseased animal.
Poultry by-product meal, turkey by-product meal – ground up carcasses, can include dead, diseased organs, all internal parts void of healthy meat, includes feet and beaks.
Salt – Used to cover up rancid meat and fat, can cause kidney and heart disease, hypertension.
Dicalcium Phosphate – Can become toxic to body.
Brewers Dried Yeast – Waste product which can become very toxic to the liver, causes allergies and arthritis.
Malted Barley Flour – Sweetened for flavor, can be used as filler, stripped of nutrients.
Sodium Metabisulfate – Inorganic salt which retards bacteria found on rancid meat.
Iron Oxide – Can be cultivated from rust.
Natural Flavor (source of sausage flavor) – Not identified.  Who knows what it is?
Red 40 – Artificial color and a carcinogenic.
BHA – Chemical carcinogenic preservative on the list of known carcinogens and reproductive toxicants.
Yellow 6 – Artificial color, potentially carcinogenic food colorant.
Yellow 5 – Possible carcinogens, requires a warning label in Europe!
Blue 1 – Artificial color, carcinogenic.
What Exactly Are These Ingredients?
Meat and bone meal might be the most disgusting ingredient in the list.  Because they do not identify the source of the meat, it can contain road kill, dead zoo animals, dead on arrival poultry, and/or diseased and dying livestock.  In these treats, this is the 3rd ingredient listed on the label!  Why do they use it?  It is cheaper and saves the company money.
Artificial dyes provide NO HEALTH BENEFITS whatsoever.  Why are they used?  Artificial coloring added to pet food modifies the appearance of highly processed foods to make them look more appealing to the pet owner.
Artificial flavors only serve to entice your dog to eat a low quality treat.
Artificial preservatives are used because they can greatly extend the products shelf life (a year is typical) and manufacturers often keep the products in warehouses for many months.  Treats with natural preservatives have a shorter shelf life.
The longer the ingredient list, the greater the chance of feeding your pet stuff that is biologically inappropriate.
There is no shortage of commercial pet treats on the market today.  So the challenge is finding safe, high quality and beneficial treats.
What Makes a Dog Treat Healthy?
No grains or unnecessary fillers
No rendered animal by-products
No sugar or salt
No chemicals or artificial preservatives, colors or flavors
Sourced in the USA, not just "Made" in the USA
Minimally processed ingredients
 The pet food industry is not regulated as much as the people food industry.  Many things are added to dog food that would never be acceptable in human products.
Why are Milkbone Flavor Snacks Dog Biscuits the #1 Best Seller in Dog Biscuits on Amazon?  Good question.
I'd like to believe that pet owners are unaware of everything that goes into those treats and don't understand the ingredient list.  I hope pet owners aren't fully aware of all the ingredients and choosing to feed them to their dogs anyway.

Our dogs depend on us to feed them safe, healthy, wholesome food.  If we wouldn't eat it, let's think about whether we should feed it to our dogs.
Check out Eli & Jojo's ingredient list.
Credit to the following websites:
www.truthaboutpetfood.com
www.petfoodindustry.com
www.dogfoodadvisor.com
Stay in Touch with Us
Eli & Jojo's dog treats are premium treats made with wholesome, real food..  We never use artificial colors, flavors or preservatives, wheat, corn, soy or salt or sugar.  Real Food.  Simple Ingredients.
Comments?  Questions?  We'd love to hear from you.