Our Treat Varieties
Eli & Jojo's makes a variety of  treats your dog will love!  How do we know this?  Because we make our treats with real organic food and leave out all the nasty stuff.  They smell and taste great and dogs know the difference!  
Every treat is mixed in small batches, hand-cut and oven-baked.  We make our own peanut butter, chop fresh fruits and vegetables, and buy local when possible.  We're a hands-on company that is involved in every aspect of our business and nothing is outsourced.  Our treats are as close to homemade as you can get.
Whether you are looking for grain-free, wheat free or decorated treats, we are confident that we're making the absolute best treats you can feed your dog.
Our Grain-Free Treats
We offer three different grain-free treats.  Each variety has ingredients specifically selected to promote either a healthy skin and coat, healthy digestion or fresh breath.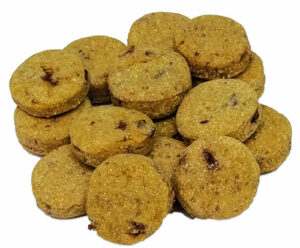 Peanut Butter Banana
Healthy Skin and Coat
Loaded with peanut butter, banana and cranberries, this variety is one of our most popular.  Dogs can smell the peanut butter right away!  With just 4 simple ingredients of chickpea flour, peanut butter, banana and cranberries, this variety is perfect for that picky pup.            Shop Now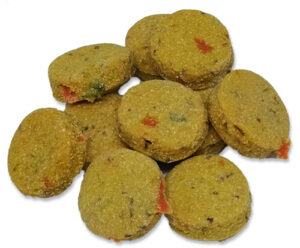 Pumpkin Veggie
Healthy Digestion
This treat has pumpkin, which is known for helping digestive issues, and bananas.   Fresh organic carrots and spinach add a big helping of nutritious vegetables. With just 5 simple ingredients of chickpea flour, pumpkin, banana, spinach and carrots, this is a great treat for dogs with sensitive stomachs.  Shop Now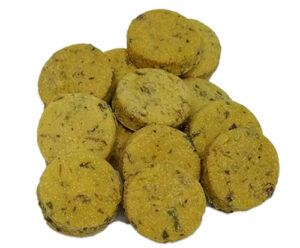 Fresh Breath
Sweet Smelling Doggy Breath
Combine fresh apples, bananas and mint and you have one great smelling treat.  The apples give the treat a naturally sweet taste.  Mint is well known for freshening breath.  Dogs love these treats and you'll love their fresh breath!  Shop Now
Our Wheat, Corn and Soy Free Treats
 We currently have six different treats that are wheat, corn and soy free.  We use a combination of  heart-healthy oats, fresh bananas, homemade peanut butter, pumpkin, sweet potatoes, flaxseed, apples, honey, coconut, sunflower seeds, salmon oil, coconut oil and other flavorings like vanilla, cinnamon, lavender and chamomile.  The Peanut Butter & Banana treat is also grain-free and gluten-free  and made with chickpea and coconut flour.  Dogs love these flavors! 
Banana, Coconut & Oat
Pumpkin, Oat & Honey
Peanut Butter, Sweet Potato & Oat
Lavender, Chamomile & Vanilla
Apple, Honey & Cinnamon
Peanut Butter & Banana
 Shop our Wheat, Corn and Soy Free Treats
SHELF LIFE
Our treats do not contain preservatives, but they have been dehydrated to remove most of the moisture.  They have a shelf life of 6 months and can be stored on your kitchen counter or frozen for 6 months.
Eli & Jojo's Bakery Bites are proudly made in Brevard, North Carolina. We are fully registered with the NC Department of Agriculture, and all of our products have been analyzed by a certified laboratory.