Wholesome Ingredients. Healthy Benefits
We believe that the best food to nurture a healthy body is food in its most natural state. The health of a dog is no exception!  All of the ingredients in our treats are specifically chosen for their nutritional benefits. In addition,  the treats must pass the sniff test and taste delicious!   We insist on:
• Certified Organic and GMO Free
• Human Grade Quality
• Sourced in the USA
• Clean, Whole Food
• Nothing Artificial
• No Sugar, No Salt
All of our treats are either naturally low in gluten or completely gluten-free.  Our recipes are simple, the treats are handmade and the result is a treat you can trust.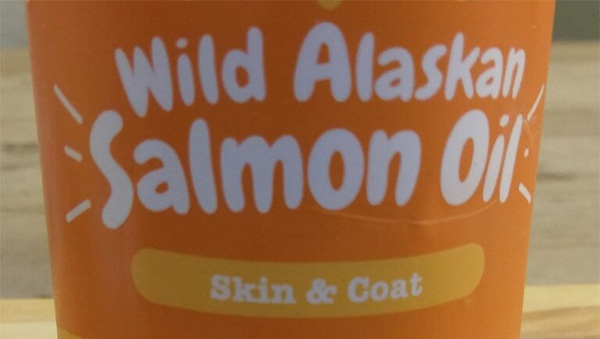 Alaskan Salmon oil
Alaskan Salmon oil is a great way to supplement your dog's diet.  It is rich in omega-3 and omega-6 fatty acids.  It helps improve the coat and skin, prevents skin allergies, regulates the immune system, helps prevent skin allergies, lowers blood pressure, helps promote weight loss in overweight dogs and is useful in the treatment of kidney problems.  Two of our treats have Alaskan salmon oil – Pumpkin, Oat & Honey and Peanut Butter, Sweet Potato & Oats.
Almond Flour
Almond flour provides healthy fats, protein, fiber, magnesium, and vitamin E.   It is a grain-free and gluten free flour, making it a good choice for dogs who have difficulty with gluten.  Our Apple, Almond & Honey treats use almond flour.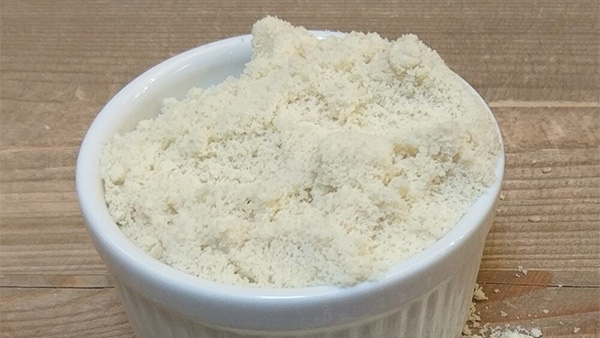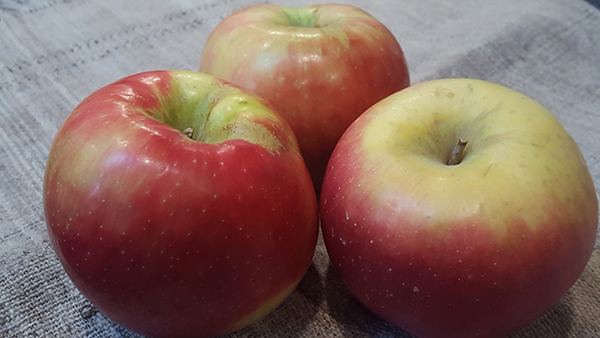 Apples
Full of fiber, vitamins A, C and K, calcium and antioxidants, apples are a superfruit for your dog. Vitamin A promotes eye health, antioxidants strengthen many body systems and may prevent disease and cancer, vitamin K improves dog's heart, blood, bone, and liver health and calcium is an essential mineral for vital body functions. We use apples in our Fresh Breath treats.
Bananas
We use real bananas in our treats, not banana powder or banana flavoring (yuk!) Real bananas provide natural sweetness and contain three natural sugars – fructose, sucrose, and glucose. They are an excellent source of Fiber, B6 Vitamin, Biotin, Manganese, Vitamin C, Copper and of course Potassium, which promotes a healthy heart function. Biotin helps in maintaining a healthy skin and coat. Our treat flavors Peanut Butter Banana, Fresh Breath, and Pumpkin Veggie all contain bananas.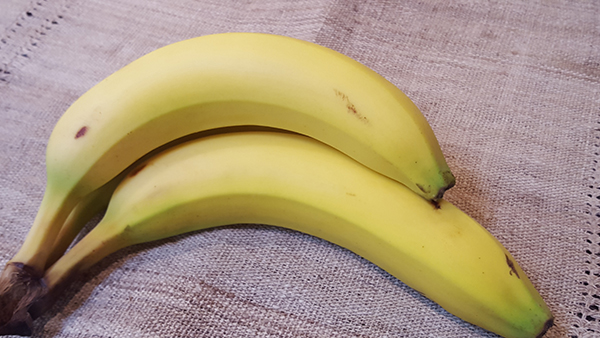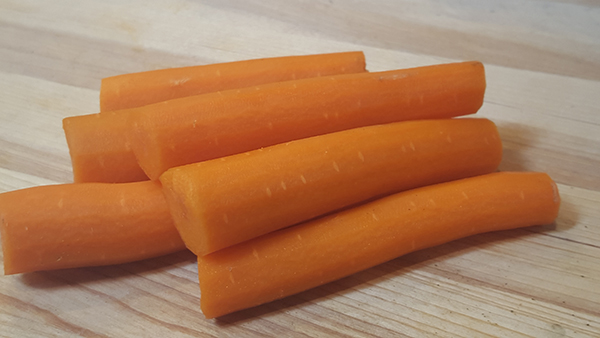 Carrots
Carrots are extremely rich in vitamin A, which can improve your dog's vision and overall eye health as well as helping boost your dog's immune system and keeping their skin healthy. Carrots are an excellent source of antioxidants, potassium, and fiber, which helps promote a healthy digestive tract. Vitamin B6 helps turn carbohydrates, fats, and protein into energy. Our Pumpkin Veggie treats are packed with fresh, organic carrots.
Chamomile
Its calming properties are particularly useful for dogs who are stressed, nervous and anxious.  It is also known to soothe indigestion. Combined with lavender, our Lavender, Chamomile & Vanilla treats can help relax your dog.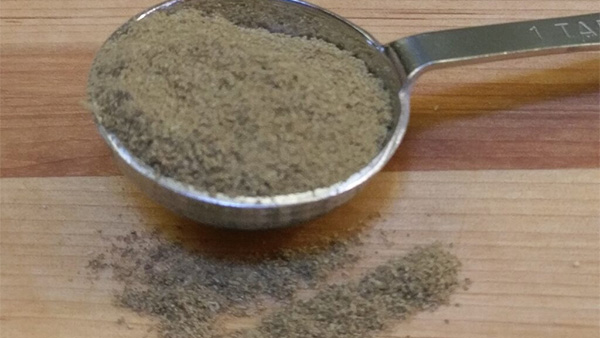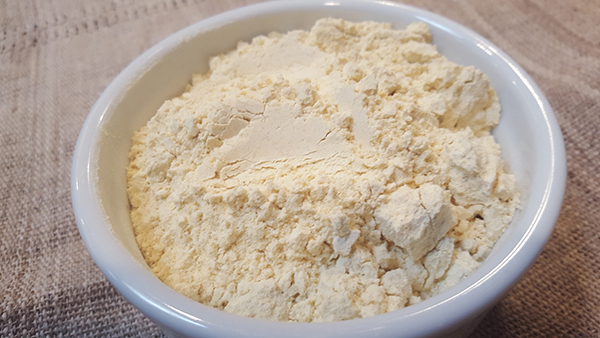 Chickpea Flour
Chickpeas are legumes, like lentils and peas. Chickpea flour is high in easily digestible protein, which your dog needs a lot of. It's an excellent source of folic acid, potassium, fiber, iron, magnesium, copper, zinc and phosphorus. Chickpeas also contain thiamine, niacin, vitamin B6 and calcium. We use chickpea flour in our grain-free treats.
Coconut Oil
Coconut oil can increase energy levels, improve skin and coat, improve digestion, and reduce allergic reactions.  It can also help with physical and digestive ailments.  We use coconut oil in our Banana, Coconut & Oat treats.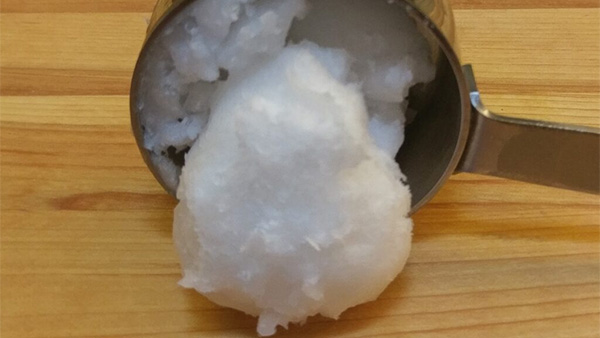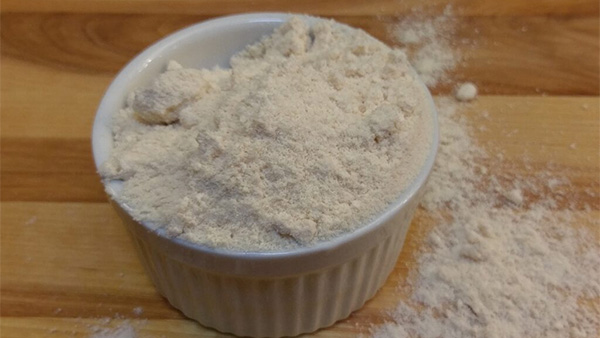 Coconut Flour
Coconut flour is a soft flour produced from dried coconut meat.  It is gluten-free and wheat-free. Coconut flour contains approximately 35% fiber which reduces the absorption of sugar into the bloodstream, lowers cholesterol, and improves digestive health.  It is especially healthy for diabetic dogs or dogs with high cholesterol as it helps regulate blood sugar levels. We use coconut flour in our Peanut Butter & Banana treats. 
Cranberries
Cranberries are full of minerals and antioxidants and rich in vitamins A, B1, B2 and C. They promote urinary tract health and vitamin C helps to keep their immune system strong. Cranberries are also a great source of fiber. We use organic unsweetened cranberries in our Peanut Butter Banana treats.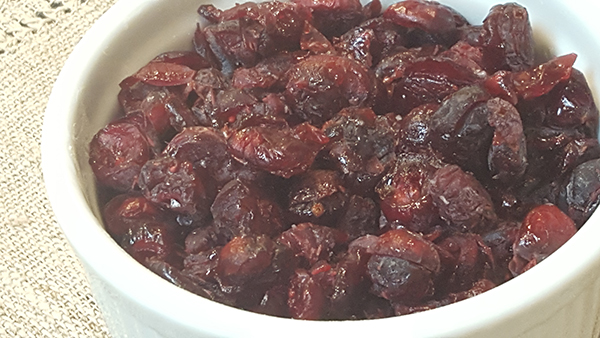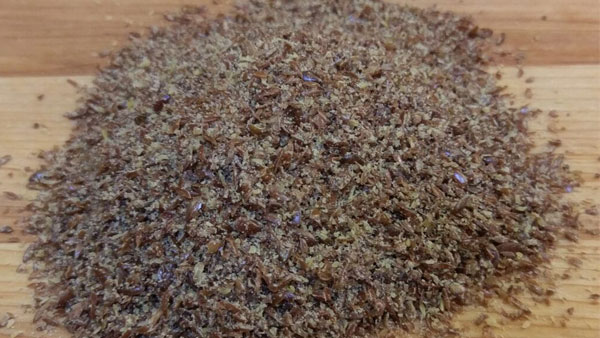 Flaxseed Meal
Flaxseed has many benefits.  Due to its fiber content, it can help dogs manage their digestion cycle.  It is beneficial for a healthy coat and skin, strong bones and flexible joints, a robust immune system and brain health, cognition and mood.  We have two treats made with Flaxseed Meal – Banana, Coconut & Oat and Apple, Almond & Honey.
Ginger
Research has shown that ginger possesses numerous therapeutic properties including antioxidant effects, lowering cholesterol and as an aid in blood circulation.  Ginger can help with nausea and/or vomiting, especially in relation to the side effects of cancer treatments. It shows promise for help with arthritis, bloat, and heartworm disease.  Our Turmeric, Coconut & Vanilla treats use ginger.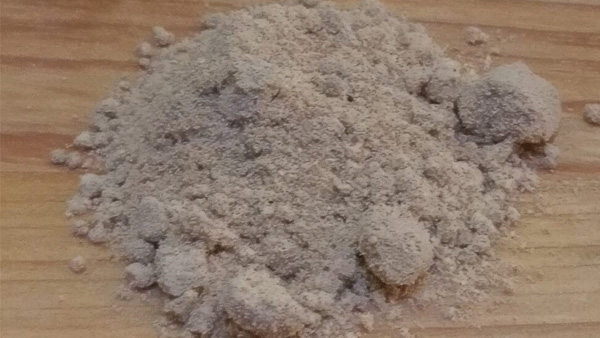 Lavender
Lavender has some incredible benefits for your dog.  One main benefit is that it has a calming effect, especially in dogs who are anxious, nervous or seem stressed.  This can include thunderstorms, separation anxiety, car rides and even settling down at night. Did you know that lavender has a lemony flavor?  We combine lavender with chamomile for a great smelling and tasting treat. Try this treat and see what you think. Our Lavender, Chamomile & Vanilla treats contain lavender.
Oats and Oat Flour
Oats and oat flour is a great alternative for dogs who have sensitivities to wheat or other grains.  They're a good source of soluble fiber, which helps regulate blood glucose levels. In addition, they are full of Omega-6 which helps keep their skin strong and healthy.  We use oats and oat flour in many of our treats, including Banana, Coconut & Oat, Pumpkin, Oat & Honey, Peanut Butter, Sweet Potato & Oat, Lavender, Chamomile & Vanilla, Apple, Honey & Cinnamon, Apple, Almond & Honey and Turmeric, Coconut & Vanilla.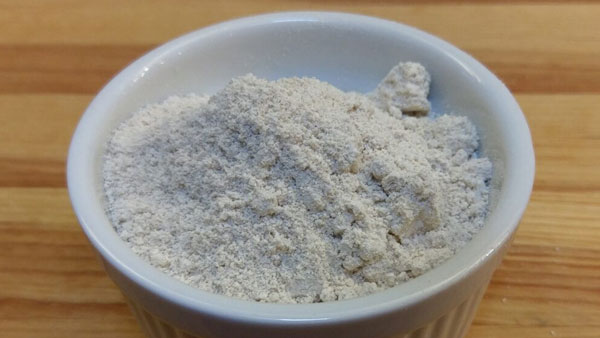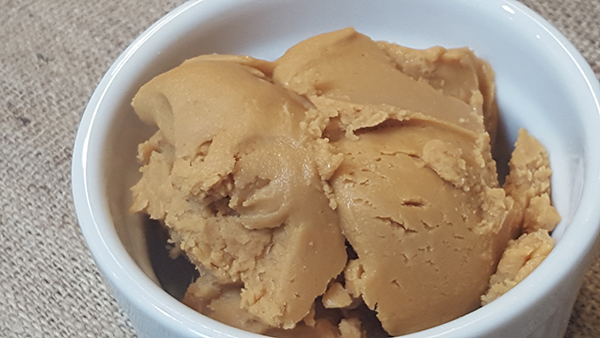 Peanut Butter
Dogs just LOVE peanut butter! We make our own homemade peanut butter from roasted organic peanuts with nothing else added. Just 100% pure peanuts. Peanuts contain vitamin E which helps in keeping your dog's coat and skin healthy and shiny, niacin which is effective in keeping proper brain circulation and improving brain health, and protein, manganese, and folate, which will keep your dog healthy against diseases. Fiber sustains better digestion by keeping your dog's colon clean and calcium helps to develop strong joints and bones and is also beneficial for aging dogs as it can lower their risk of bone-related problems. Dogs love the peanut butter in our Peanut Butter Banana treats.
Pumpkin
Pumpkins are full of nutrients and contain loads of vitamin A, respectable amounts of vitamin C, and good quantities of other enriching minerals like iron and potassium. Pumpkin is rich in antioxidants from the carotenoid family. These carotenoids are very absorbable and sit in your dog's cell membranes to fight oxidative damage. They're considered some of the better long-acting antioxidants around. The fiber in pumpkin can serve to both magically loosen or tighten your dog's bowels, whichever issue your dog faces. Dogs enjoy the taste of pumpkin and we use it in our Pumpkin Veggie treats.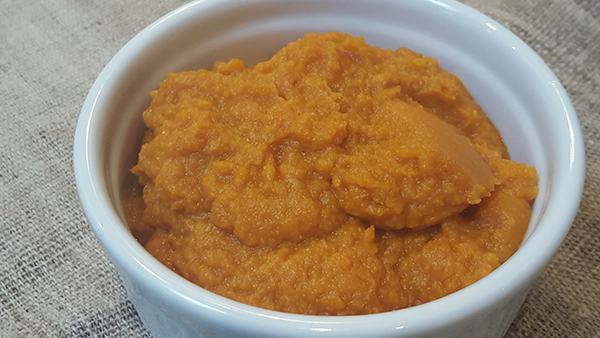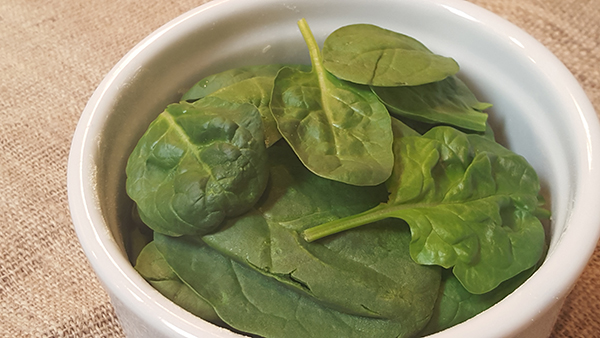 Spinach
Dense in iron and magnesium, spinach also contains vitamins A, B, C, and vitamin K, which helps maintain good bone health and growth. Spinach is a nutrient-rich vegetable. It contains iron, beta-carotene and a lot of protein. It is also rich in anti-inflammatory properties and antioxidants. We use fresh, organic spinach in our Pumpkin Veggie treats.
Sunflower seeds
Sunflower seeds contain a multitude of vitamins, minerals, antioxidants, and other vital nutrients, making sunflower seeds for dogs a great addition to the diet.  The fats in these seeds are natural and healthy, free from saturated, or "bad" fats. These fatty acids will allow your dog to have a full, shiny, healthy coat. They support the production of good cholesterol and can produce a calming effect in dogs who experience anxiety, neurosis, fatigue, and depression.  Just one ounce of these little seeds will give your dog his daily dose of vitamin E! Our Apple, Honey & Cinnamon treats are made with sunflower seeds.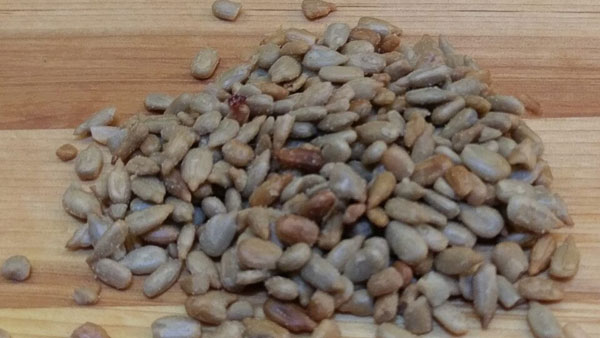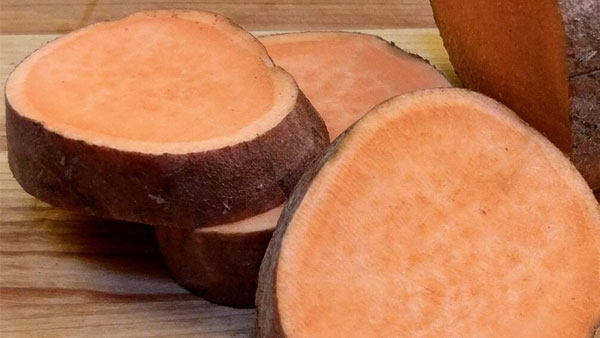 Sweet Potatoes
High in dietary fiber, they are an excellent source of vitamin A, which promotes healthy skin, coat, eyes, nerves, and muscles in dogs.  They are also a great source of vitamin Ct, B5, dietary fiber, potassium, and iron. They contain antioxidants, anti-inflammatory, and disease-fighting components and contain beta-carotene which can help aid the immune system. Peanut Butter, Sweet Potato & Oat have sweet potatoes.
Turmeric
Turmeric contains a compound called curcumin, which has antioxidant properties as well as relief from inflammation.  It can help fight diseases like arthritis, diabetes, cancer, liver disease, gastrointestinal issues and more. Our Turmeric, Coconut & Vanilla treats have turmeric as the main spice.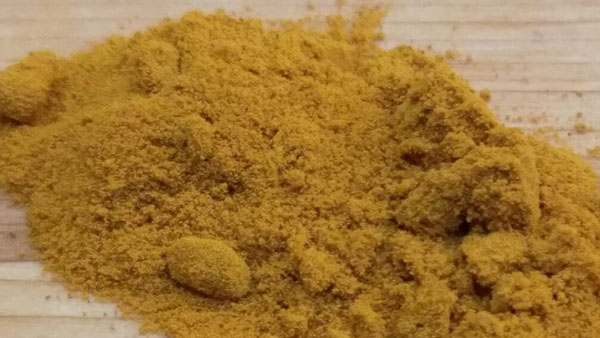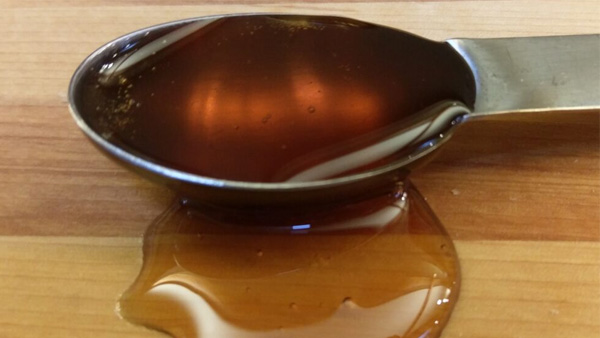 Wildflower Honey
Honey is believed to have antimicrobial and antifungal properties, is able to reduce inflammation, soothe stomach ulcers and sore throats, and reduce allergic reactions.  We use local, raw wildflower honey. We have three treats that use honey – Pumpkin, Oat & Honey, Apple, Honey & Cinnamon, and Apple, Almond & Honey.