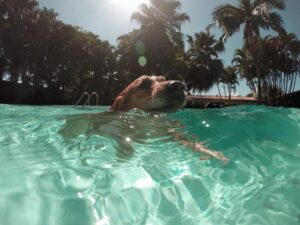 When summertime rolls around, you might have special concerns about taking care of your pet.
Perhaps you're wondering what you need to do to protect them from the heat, how you can
keep them comfortable on road trips, or if you need any special products to ward off fleas and
ticks. These tips will help you prepare for summer and save money on all the supplies your pet
needs.
While the following tips are great for keeping your pet healthy during the summer, giving your
dog nutritious and delicious treats should be done year-round! Shop at Eli & Jojo for wholesome
treats that will help your pup stay healthy no matter the season or occasion.
Portable Gear
Over the summer, you might take a weekend camping adventure or go on long drives to visit
relatives. If you're taking your pet along for the ride, you'll need a good harness, a travel crate
lined with cozy blankets, and their favorite toys for comfort. Don't forget to bring portable bowls
to make sure they stay nourished and hydrated, too! During the summer, your dog will need to
drink more water than usual.
Look up portable bowls with great reviews and compare prices to ensure that you get a good
deal on a high-quality product. It's also smart to take these bowls on hikes or walks so that your
dog can stop for a drink every once in a while.
When you're traveling with your pet in the summer months, remember to let them out of the car
every time you stop. Leaving your pet in a hot car could be fatal, and simply cracking the
windows isn't enough to keep your furry friend safe.
Water Safety
Do you plan to take your dog swimming this summer? Pick up a doggy life jacket before you
head to the lake or beach with your animal companion! Yes, even dogs can benefit from
wearing life jackets. Remember, not all breeds are instinctively good swimmers. Just make sure
that the life jacket fits your pooch perfectly.
In order to reduce the cost of specialty summer gear and other supplies for your pet, check out
online retailers like Chewy. And if you spend a little time seeking out a Chewy promo code or
coupon, you can make your purchases even more affordable.
Flea and Tick Prevention
To keep your pet safe outdoors this summer, you'll need to be vigilant about checking for fleas
and ticks. Mow the grass in your yard as short as you can, and avoid areas with tall grass when
you're exploring elsewhere with your dog. Give them a once-over and carefully inspect their
coat after they spend time outside!
The American Kennel Club also recommends stocking up on products specifically designed to
prevent or eliminate fleas and ticks, like shampoos, topical treatments, and collars. Ask your
veterinarian for their recommendations to see which options fit your budget, and don't forget to
look for coupons before making a purchase!
Build a DIY Doghouse
Sometimes, the temperature climbs so high that it would be unsafe to walk your dog on the
asphalt, as contact with hot asphalt could damage their paws. But if they want to spend some
time in the backyard with you, having a dog house where they can relax in the shade can help
prevent heatstroke. You can buy a pre-made doghouse, or you can build one yourself to cut
down on the costs! This fun weekend DIY project will keep your dog happy and healthy all
summer long.
Many pet owners do not realize that they have to take certain precautions during the hot
summer months to protect their pet from dehydration, heat stroke, tick bites, and more. But if
you get supplies ready for your pet in advance, you can snag the best deals and ensure that
your pet will have an enjoyable summer by your side!
Photo via Unsplash
This article was submitted by Jessica Brody at ourbestfriends.pet.
Thank you, Jessica!
Keep in Touch with Us
Eli & Jojo dog treats are premium treats made with wholesome, real food..  We never use artificial colors, flavors or preservatives, wheat, corn, soy or salt or sugar.  Real Food.  Simple Ingredients.
Comments?  Questions?  We'd love to hear from you.