The Humorous French Bulldog
This is the last part in our series on America's Top 10 Favorite Dogs.  The French Bulldog came in at number 4, so let's take a look at what makes this breed so popular.
The French Bulldog,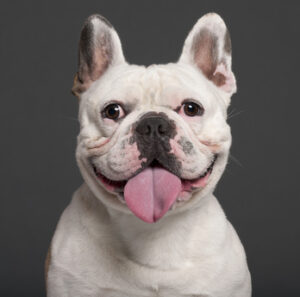 often called a "Frenchie", is a fabulous family companion.  This stocky little dog with those big beautiful eyes will capture your heart with his humorous and mischievous personality.  They are intelligent and can learn quickly, but can also be free thinkers and very stubborn.
Training the French Bulldog
Training them is easier if you make it a game and reward them with food or playtime.  They make excellent watch dogs and will bark at unfamiliar noises, but they are not yappy dogs.
Frenchies are very sociable and friendly, but they can be protective of their owners.  You can begin taking your pup out for socialization by walking in public places where they can meet people and other dogs.  Keep your leash short so you can maintain control.  Reward them for good behavior – they really do want to please you.  They respond very well to positive reinforcement.
Things to Avoid with your French Bulldog
This breed has a very flat face and almost closed-off nostrils.  Keep that in mind whenever you are outdoors.  You might want to avoid the following:
getting them overheated in hot weather
outdoors in cold weather
long, extended walks
places with water.  Their favorite activity is relaxing on the couch.  They also enjoy chasing a ball and clowning around.  Their comical nature will keep you entertained every day!
You may be interested in our article that looks at the main reasons dogs get lost.
Keep in Touch with Us
Eli & Jojo's dog treats are premium treats made with wholesome, real food..  We never use artificial colors, flavors or preservatives, wheat, corn, soy or salt or sugar.  Real Food.  Simple Ingredients.
Comments?  Questions?  We'd love to hear from you.